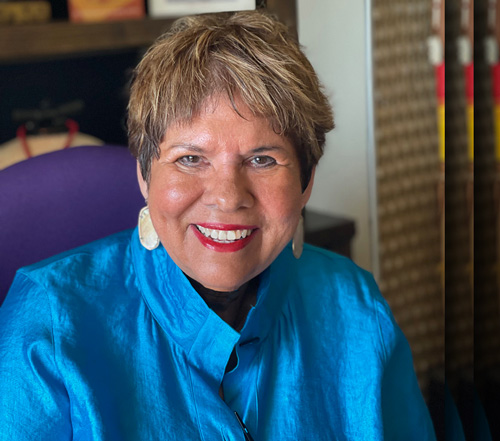 Laura I Rendón
Professor Emerita | University of Texas-San Antonio
---

---
In Lak'ech
I am you. You are me.

L

aura I. Rendón Ph.D. is a nationally-recognized student advocate, activist scholar and contemplative educator. Rendón is part of a network of public speakers affiliated with SpeakOut-The Institute for Democratic Education and Culture. She has made hundreds of keynote addresses, workshops and research presentations for national and international colleges and universities, educational organizations and non-profit entities.

Rendón grew up in a low-income, single-parent household along the U.S. Mexico Border in Laredo, Texas where she learned to speak English in the first grade. Rendón is a passionate advocate for low-income, first-generation students who she feels have hopes and dreams but often do not know how to realize them. She is also a teaching and learning thought leader, and is the author of Sentipensante Pedagogy: Educating for Wholeness, Social Justice and Liberation along with 9 other books and monographs and an extensive list of scholarly publications focusing on success for underserved student populations—see CV.

Rendón holds professor emerita status at the University of Texas-San Antonio, and has held faculty and administrative appointments at a wide range of universities including the University of South Carolina, North Carolina State University, Arizona State University, California State University-Long Beach, Iowa State University and University of Texas-San Antonio.

Rendón's personal archives are a part of the Nettie Lee Benson Latin American Collection at the University of Texas-Austin, one of the premier libraries in the world focused on Latin America and Latinx Studies.

The Arizona State University Chicano/Latino Faculty and Staff Association established the Laura Rendón Scholarship which pays tribute to her leadership, character and academic excellence. Each year the scholarship awards students whose academic merit demonstrates these same virtues that will impact the Chicano/Latino community. https://scholarships.asu.edu/scholarship/1636
CURRENT PROFESSIONAL ENGAGEMENTS
Board of Directors, John N. Gardner Institute for Excellence in Undergraduate Education. The Institute is a non-profit organization focused on improving outcomes associated with teaching, learning, retention and completion. It is also concerned with achieving equity and social justice in higher education.
Fellow, Mind and Life Institute. The Institute connects science and contemplative wisdom to better understand the mind and create positive change in the world.
Racial Equity Coach, Bensimon & Associates, supported by the Bill & Melinda Gates Foundation. Coaches work with organizational entities on issues of race, racism, and racial equity.
Equity Advisory Council, Center for Healthy Minds, University of Wisconsin-Madison. Serve in advisory capacity to position equity, inclusion, and diversity at the center of all CHM work including staffing, research, policies, practices, graduate student and post doc selection and training, organizational learning, and financial decision making.
Advisory Group, National Postsecondary Rural Research Agenda, sponsored by Ascendium and SOVA. Serve in advisory capacity to address the needs of low-income students in rural colleges and universities.
Executive Committee and Director of Education. International Society for Contemplative Research. A new organization concerned with rigorous investigation of traditional and modern forms of contemplative and other mind-body practices and their value to the health and well-being of the world.
Scholar/Mentor, Catch the Next Project, Austin, TX. Project focuses on fostering success for low-income students in Texas community colleges.
Advisory Concilio, Turning on the Lights Project (STEM Education), San Diego City College. Project focuses on a learning culture designed that uncovers the hidden curriculum for underserved students majoring in STEM fields of study.
Faculty Fellow. Human Values Center. Focused on optimizing human potential for individuals, organizations and communities.